PEACE NOBEL PRIZE 2018
Nobel peace prize 2018 goes to the Dr. Denis Mukwege. A this occasion "Le Soir" and "Les Films de la passerelle" reissue on dvd "The man who mends women" !
BUY DVD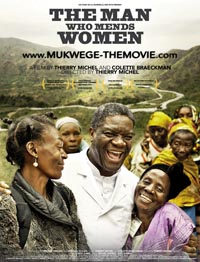 ---
MAGRITTE 2016 : BEST DOCUMENTARY !
A co-production Les Films de la Passerelle / Ryva Production / Public Senat / Lichtpunt / Wallonie Image Production Produced with the help of le Centre du Cinéma et de l'Audiovisuel de la Fédération Wallonie Bruxelles et de Voo / RTS / TV5 Monde / Coopération belge au développement - DGD / SPF Affaires étrangères / OIF / NED / Fondation George A. Forrest / Brussels Airlines / Tax shelter Bisanga / Circus Belgium / Les Editions rurales / Laboratoires Sterop / Liege Airport / Neo-Tech / Creative Europe - Media Programme of the European Union / Parlement Européen Distribution Films de la Passerelle / international Sales Cat & Docs

Photo gallery
---
Video gallery
---
About Les Films de la Passerelle
Les Films de la Passerelle specializes in documentary films committed on various levels: social, humanitarian, political and North-South relations.
THE WEBSITE
About Ryva Production
Ryva Production was founded in 2002 by Eric van Zuylen.
THE WEBSITE